From 7th-12th November 2022, the FMSL had our General Chapter which was postponed from 2020 due to the pandemic. Two of our Sisters from India were able to attend in person, and one Sister from Knock, Ireland; while other Sisters in Knock and India participated by video link. The week of meetings began with a day of prayer on Sunday 6th. On the 7th, there was a votive Mass of the Holy Spirit, celebrated by Fr. Stephen Ortiger OSB, the diocesan Vicar for Religious. During this Mass, Sr Deepa Thomas from our India community made her final profession of vows.
In the afternoon of the 7th, elections were held for Mother General and her Council. Sister Clare Bowers was elected as Mother General. The following were elected as her Council members: Sister Anne McLaughlin, Sister Elizabeth Morris, Sister Clare Bernadette Knowles and Sister Promodini Ekka.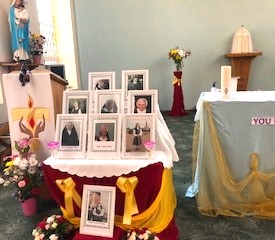 Msgr M. Jackson celebrated Masses during the Chapter. The final Mass on Saturday 12th was celebrated in memory of the nine Sisters who had passed away since the previous Chapter in 2017: Sisters Augustine, Peter, Veronica, Finbarr, Fabian, Xavier, Martha, Felicity and Concepta.
At the end of Mass, Msgr. Jackson presented Sr Clare, Mother General with the Chapter Mandate. This contains the measures approved by voting from the Chapter which Mother General and Council are to implement over the next three years.
The theme of the General Chapter was, 'be it done to me according to your word' (Lk 1:38). During our meetings, we tried to discern together what was God's will for the FMSL in these times and moving forward. We would be grateful to be remembered in your prayers as we strive over the next three years to put God's word for us into practice.